Bespoke Spreadsheet Design & Development
If you have found yourself on to this website, the chances are you either have a need for a new spreadsheet to be developed or (more likely) already have one and have found yourself out of your depth.
Microsoft Excel is a powerful tool, but exploiting what it can offer can be beyond the expertise of the average user. Some powerful features that you may have seen in other people's spreadsheets can often be relatively straightforward to add:

Dropdown lists
Conditional formatting
Cell protection
Pivot tables
Links to other spreadsheets
Entry validation with error/warning messages
Examples of other things that might take more time however, and require considerable expertise or programming in Visual Basic for Applications (VBA) are:

Data manipulation
Complex, chained formulas
Complex macros, perhaps to automate laborious tasks.
Custom forms
Integrating with external databases
Interacting with the web
Working with XML
I can design and develop Excel solutions for you from start to finish that can include any of these things, or can build them into your own existing spreadsheets, adding a professional design. In addition to Excel, I am an experienced Photoshop user and can create rich graphic elements such as logos and buttons in order to produce a final result that fully conforms with any branding standards you may have.
In determining your requirements, any existing spreadsheets or mockups that you are able to provide can be a very useful, but not essential, starting point. One customer D Morgan, who wanted me to build them a Timesheets application, provided the below mockup of what they were looking for, which I then used to guide my final solution.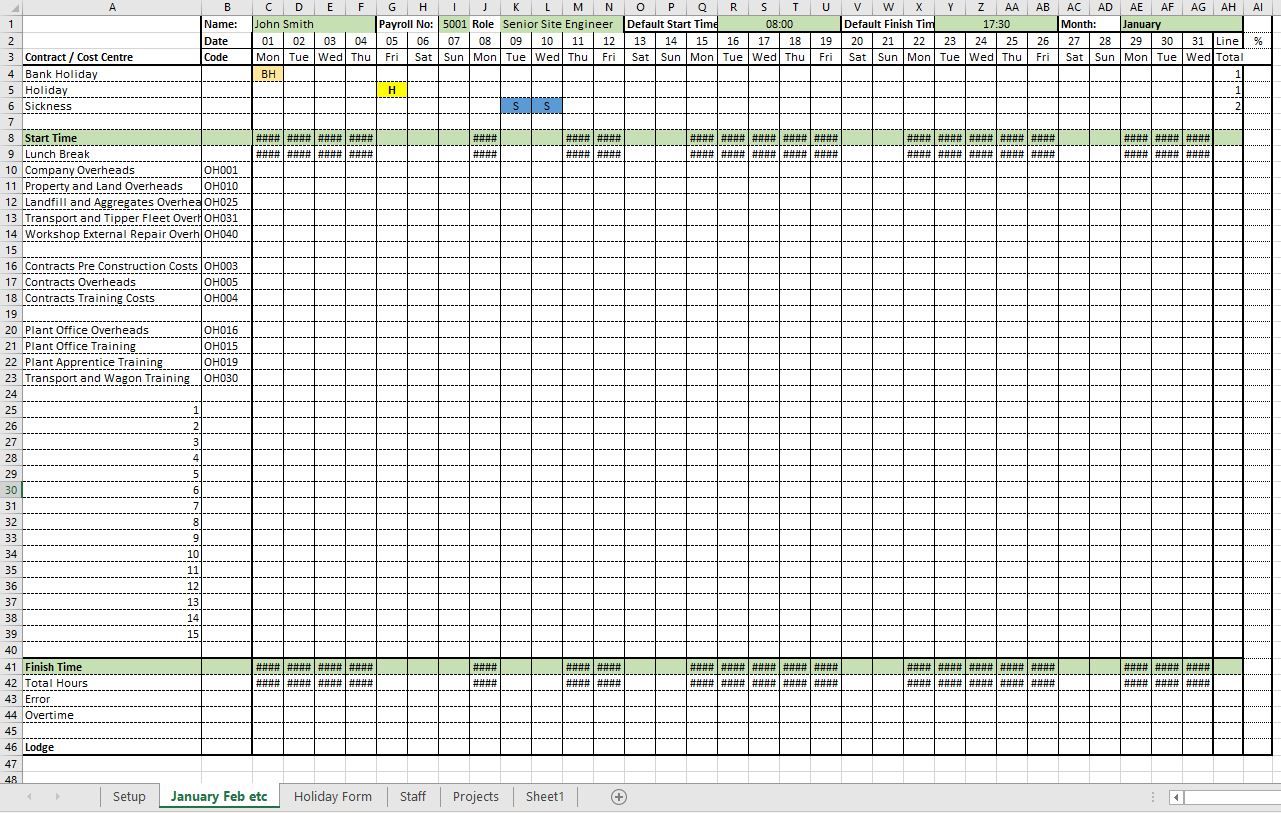 The original mockup that was supplied by D Morgan as a specification (click image to expand)


The final timesheet that was delivered
For a full description of the above Timesheets project click here.
PDF Reports
For a description of a project completed for the Spinal Injuries Association that involved the development of PDF reports click here.
Dashboards
For an example of a project that was completed for Integrated MEP that involved the development of dashboards based on linked pivot charts (and also supported PDF output) click here.
---
To see other examples of completed projects, please take a look at my case studies page.
If you would like to discuss a potential project, I offer a free 30 minute telephone consultation.
If you are interested, you can request one here.