Database Integration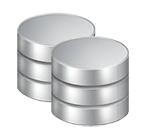 For anything but the smallest scale data storage concerns and for whatever business need, organisations tend to use databases. Common technologies are Oracle, Microsoft SQL Server, Sybase and Microsoft Access. Often there is a desire to pull in database information to a spreadsheet or similarly, to add or update database records with results calculated by a spreadsheet.
In most database technologies, interacting with them is achieved using SQL queries. Excel does provide an inbuilt way to use these, but embedding them in VBA macros can offer much greater flexibility and resilience.
Having many years of experience writing SQL in industry and across various different database technologies, you can be confident that whatever data you need to pull in or update, the problem can be solved.
Case Study - D Morgan - Reference Data
D Morgan is a civil engineering company who I have completed various projects for, most of which have required reference data to be loaded from their SQL Server databases using SQL queries embedded in VBA macro code. Their Timesheets project is a good example, which loads staff and project data from their HR and project accounting systems respectively. Click here for a full description of what was delivered.
---
If you would like to discuss a potential project, I offer a free 30 minute telephone consultation.
If you are interested, you can request one here.